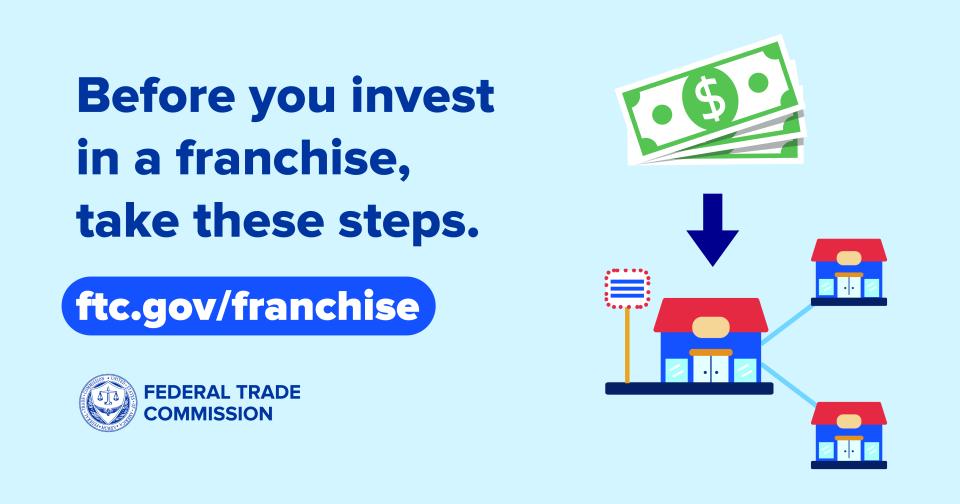 No one would try to run a marathon with just a few days of preparation. It takes months of rigorous training before you can step up to the starting line with confidence. Of course, the process of studying, selecting, opening, and operating a franchise can make a marathon feel like a stroll in the park. In the second of our Franchise Fundamentals blog series, we take a closer look at the extensive research "road work" prospective franchisees should undertake before investing in a franchise.
Step 1:  Start with financial introspection.  Your financial investment in a franchise is much more than just the franchise fee. Before you begin the buying process, figure out how much you can comfortably pay for the franchise and whether you're financially prepared to handle the other costs you will incur even before your franchise opens. For example, you may have to pay for training, real property, lease payments, leasehold improvements, inventory, utilities, equipment, and decorating. The list could go on. Are you ready to cover those costs out of pocket or will you need financing? Have you budgeted for those outlays and what's your back-up plan if other expenses exceed your original budget? Those are discussions you may want to have early on – and later in the process, too – with a trusted independent financial advisor.
This inquiry requires that you pose some tough questions to the Investor in the Mirror. How much money can you spend? How much can you afford to lose? Will you need financing? Where will you get it and how much will financing add to your costs? What's your credit rating and is your credit score in tip-top shape? Do you have sufficient savings or additional income to tide you over until your franchise opens and – fingers crossed – becomes profitable? How will you pay for those additional fees? Will you lose your home or retirement savings if your franchise fails? 
Step 2:  Research the marketplace.  To boost your franchise IQ, read everything you can find from a wide variety of sources – online materials, books at the library, magazines about franchising, etc. Just be sure to filter the information through some healthy skepticism. As with any other investment, it can be difficult to discern between objective evaluations and advertising. Those glowing reviews may shine a little less brightly if it turns out they were written by people on the payroll of franchisors.
Franchise expositions are another source of information that allow you to compare franchise possibilities under one roof. Before you attend, decide the categories of franchises that best suit your budget, experience, and goals. Visit multiple exhibitors whose franchises fit your criteria and come prepared with a list of hard-hitting questions:
How long has the franchisor been in business?
How many franchised outlets are there? Where are they?
What's the initial franchise fee? What are the additional start-up costs?
Are there continuing royalty payments? How much are they?
What management and technical support does the franchisor offer?
What controls does the franchisor maintain?
Is there an operating manual for the franchise and what does it require of franchisees?
Attendees report that enthusiasm can run high at expositions, which is why it's crucial to keep your cool. Exhibitors may offer incentives for you to attend promotional meetings to discuss the franchise in detail. Those meetings can give you a chance to probe for in-depth information, but be wary of even a hint of the hard sell. A high-pressure "Act now!!" sales pitch is your cue to head for the exit.
Step 3:  Seek wise counsel.  It goes without saying that you shouldn't make a final decision about a franchise without getting independent legal and financial advice – and that's exactly what we'll say in the third of our Franchise Fundamentals series. But even at the preliminary stage, it's smart to talk things over with people you trust. If you've read the autobiographies of admired entrepreneurs, you may be struck by how much they value the opinions of tell-it-like-it-is advisors. Before you decide a franchise is for you – and certainly before you sign on the dotted line – appoint your own informal "Board of Directors" made up of successful business people in your circle and others whose judgment you trust.
What about engaging the services of a "franchise broker"? The short answer is "It depends." You may see ads online or in business magazines for advisors or consultants who say they can help you select among various franchise options. Before deciding to use a broker, do in-depth research into what they promise to do for you. Ask how many franchisors the broker represents. A broker who represents only a few won't be in a position to give you big-picture advice. Find out how the broker selects franchisors to represent. What criteria do they apply and how many franchisors have they turned down recently?
Then there are big questions about compensation. Who pays the broker and how is the payment calculated? Some brokers get a flat fee while others earn a commission based on the cost of the franchise – meaning they could have an incentive to steer clients into more expensive options or to specific franchises. Read A Consumer's Guide to Buying a Franchise for what to consider if you're thinking about using a franchise broker.
Let's say you've narrowed it down to a few different franchises. What steps should you take before making a final decision? That's the subject of the third in our Franchise Fundamentals series, which will include a walk through some disclosures required by the FTC's Franchise Rule.