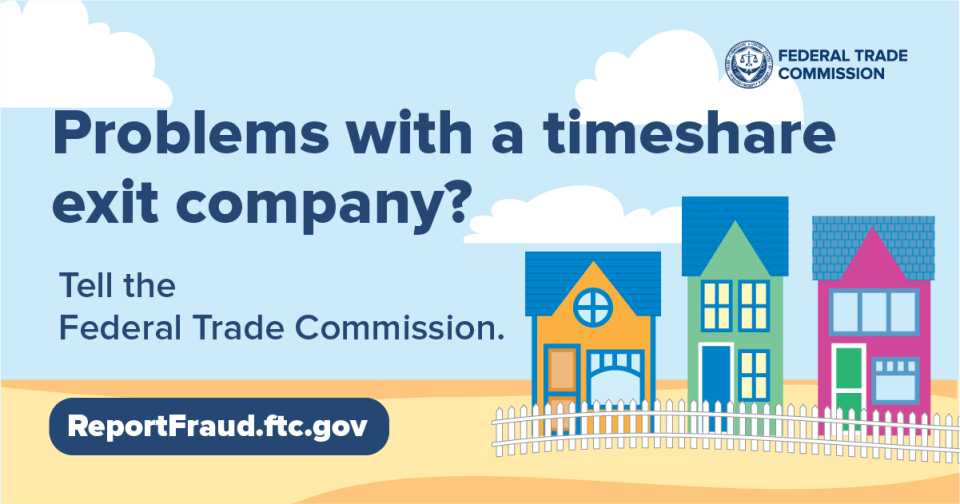 Timeshare exit companies advertise a lot. Many "guarantee" they can get you out of your timeshare contract, but sometimes these companies are simply a scam. In a case announced today, the FTC said a company called Consumer Protection Law (one of its many names) didn't deliver on all its promises. Read on to learn about staying ahead of the scammers.
According to the FTC, Consumer Protection Law targeted older adults, sending mailers to invite them to in-person presentations. There, they'd use pressure tactics to get people to sign up for their bogus services right away. Customers wound up paying huge fees (anywhere from $5,000 to $80,000)…but the company rarely delivered.
It sounds obvious, but: the best way to avoid timeshare exit scams is to have an exit strategy from the start. Vacation timeshare flyers often draw you in with pictures of sunny beaches and beautiful resort suites. If you go to an in-person timeshare presentation, the salespeople make you feel like you're already on vacation. But before you sign a timeshare contract, make sure you understand what you're getting into — and how to get out of it. 
If you're already in a timeshare and want out, start by contacting your timeshare company. Some have exit programs that let you exit for a modest fee. But, if you think you want to hire a company to help you, take some steps before you sign:
Research the company. Search online for the company's name, plus the words "scam" or "complaint."
Study the paperwork on your own. Get all promises in writing. It's your right.
Ask about your ability to cancel the contract. In certain circumstances you have the right to a cooling-off period — a time when you can cancel the deal after you've signed the papers.
Problems with a timeshare exit company? Tell the Federal Trade Commission at ReportFraud.ftc.gov.