You've probably seen online ads with offers to let you try a product – or a service – for a very low cost, or even for free. Sometimes they're tempting: I mean, who doesn't want whiter teeth for a dollar plus shipping? Until the great deal turns into a rip-off. That's what the FTC says happened in a case it announced today.
The defendants sold tooth-whitening products under various names, and hired other companies to help them market the products. These affiliate marketers created online surveys, as well as ads for free or low-cost trials – all to drive people to the product's website. What happens next is so complicated that we created an infographic to explain it.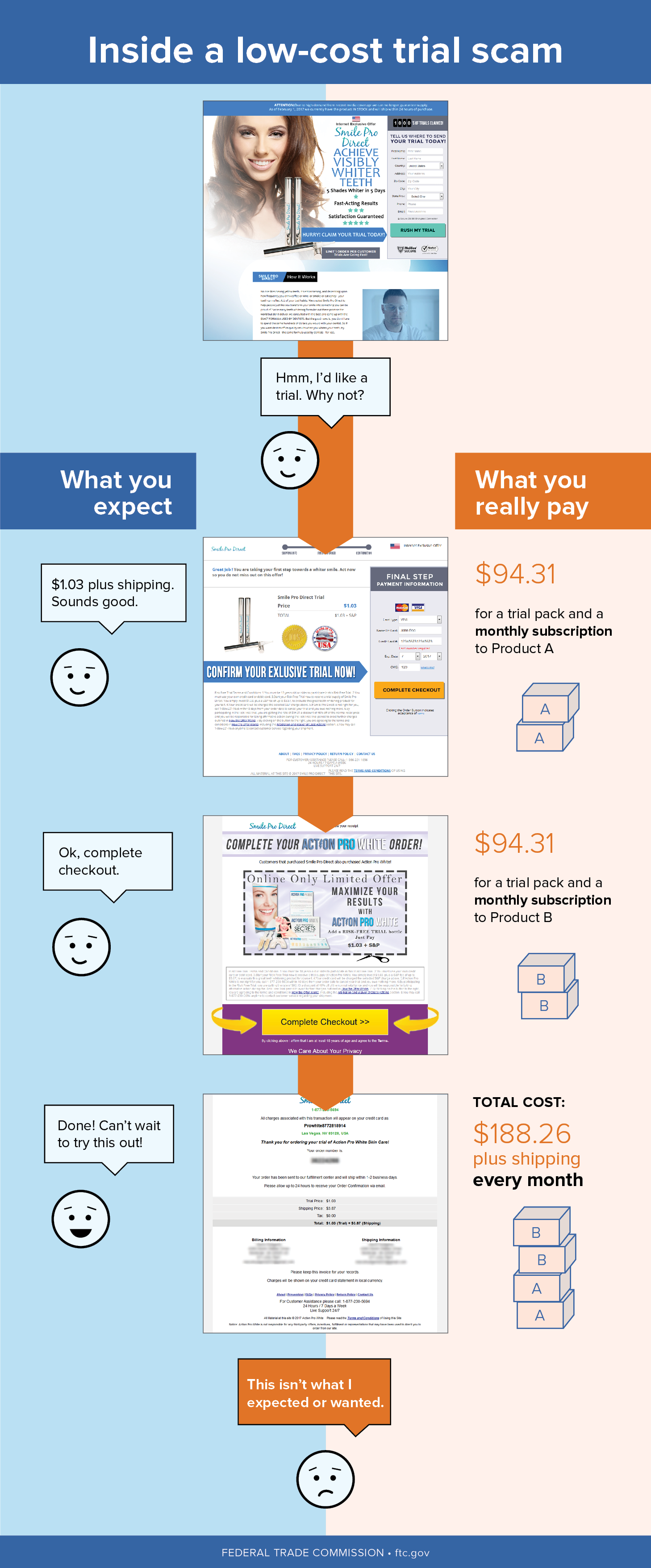 In short, once people ended up on the product's website, they filled in their info, put in their credit card number, and clicked "Complete Checkout." When people clicked this button they not only got the free trial of the one product, but were actually agreeing to monthly shipments of the product at a cost of $94.31 each month.
Next, another screen came up and people were asked to click "Complete Checkout" again. But the second screen wasn't a confirmation screen for the trial of the product. Instead, by clicking this button people were actually agreeing to monthly shipments of a second product. So, what started as a $1.03 (plus shipping) trial of one product wound up being an unexpected two products at a very unexpected $94.31 each – for a total monthly charge of $188.96 plus shipping.
Trial offers can be tricky – and there is often a catch. If you're tempted, do some research first, and read the terms and conditions of the offer very closely. Sometimes, however, marketers might simply try to trick you – and it can be hard to spot. Look again at the infographic…would you have known what charges were about to hit your credit card? If you use your credit card for a low-cost trial offer, be sure to check your credit card statement closely. If you see charges you didn't authorize, contact the company and your bank immediately. And then tell us about it.