It seems like manufacturers are coming out with new smartphones, tablets and other devices at a faster clip year after year. People who upgraded and were looking to get some money back for their old devices may have been tempted by some websites that promised to pay top dollar. As a result of the lawsuit filed by the FTC and the State of Georgia, a federal court just put a stop to one company running several buyback websites because it wasn't keeping up its end of the bargain.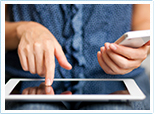 Laptop & Desktop Repair, the company behind websites like cashforiphones.com, cashforlaptops.com, ecyclebest.com, smartphonetraders.com and sell-your-cell.com, gave customers online quotes and promised they'd pay the quoted amount after getting the devices. But when the company received the customer's device, it changed its tune and offered to pay as little as three percent of the original offer. That's right, three percent!
If customers weren't happy with the counter offer, they had a window of three to five days to reject it. Oh, I almost forgot to mention that the window included weekends—and the company was closed on weekends! And another thing, the company wouldn't respond to customers' emails. If customers called, the company hung up on them or put them on hold for long time. Seriously, I'm not making this up.
So, what should you do with your old device? You could:
Trade it in. Ask the manufacturer or retailer if they'll take your old device and give you credit toward a new one.
Recycle it. Ask the manufacturer or retailer if they recycle old devices. You can also see the EPA's advice on donating and recycling electronics.
Donate it. Contact your local charity and ask if they accept used electronics.
Whatever you decide, check out our tips on disposing of old computers and disposing of your mobile device to learn how to delete any personal information from the device before you get rid of it.